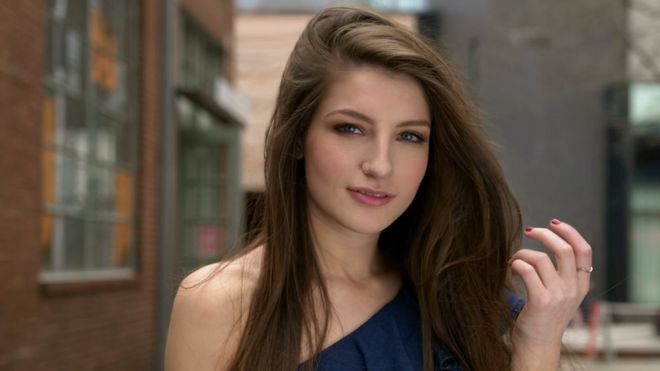 "I have such a clear memory of the first time I heard Taylor Swift," says Catherine McGrath.
"I remember hearing Love Story on my babysitter's phone when I was 12 – and it was like, I didn't know what it was called but I had the words lodged in my head.
"Then I heard it again on YouTube in school and I was like, 'That's that girl!'
"And then I saw her album in Asda; and I found her interviews talking about Rascal Flatts and Brad Paisley; and, for me, it was so clear – that process of finding her and discovering her music and falling in love with it.
"So that was how I fell in love with country music. I remember that as clear as day."
The 21-year-old isn't the first person to be inspired by Taylor Swift, but few have managed to turn it into a career in music. And fewer still hail from Northern Ireland.
McGrath, whose crisp and catchy debut album is released this week, was brought up in Rostrevor – a tiny fishing village in County Down which inspired CS Lewis's Chronicles of Narnia, and has been used as a backdrop for several episodes of Game of Thrones.
Her entire family is musical – in fact, her parents run Rostrevor's annual folk festival – but McGrath was never keen on performing in front of people.
"I sang in my bedroom," she recalls. "I'd lock myself away and if mum and dad had friends over they would secretly listen at the door.
"Sometimes I'd finish singing and I'd hear them outside going, 'Yay!'"
Although her parents praised her voice, it was only when McGrath uploaded a cover of Taylor Swift's Love Story to YouTube that she realised they weren't just humouring her.
"There was a comment from a stranger," says the singer. "She said, 'This is really good, you should put up more' and I was like, 'Wow! People are being nice, anonymously, on the internet! Maybe it's not just my mum!'"
Encouraged, McGrath uploaded more videos, building a small, but passionate fanbase until, one day, she got an unexpected message on her Facebook page.
"It said, 'Hi! I work for Warner Music and I saw your cover of Lego House by Ed Sheeran,'" she says.
"And I was like, 'Internet Safety! He's a weirdo!' So I ignored it."
But the messages kept coming, not just to McGrath but to her cousin and one of her friends. Eventually, her mother phoned Warner Music in London to find out what was going on.
To her surprise, the messages were genuine – sent by Conrad Withey, a former president of Warner Music, who immediately offered to become McGrath's manager and set up songwriting sessions around London.
One of the first tunes she wrote was Lost In The Middle; a love letter to country music that simultaneously celebrates its "ripped jeans / red dress" cliches, while acknowledging the strangeness of being a teenage country fan in Ulster.
"It wasn't cool to listen to country," she recalls.
"In my group of friends, it was like, 'Country music is just about trucks and beer; and that's what you listen to if you're 50.
"They had this weird idea about it that just was not true, because it's all about story-telling and honesty. It's just good music."
Story-telling has become McGrath's calling card. Her glossy, addictive songs are peppered with skilfully observed details about the thrills of falling in love and the misery when your feelings go unreturned.
One that's really resonated with fans is Wild – which tells the story of the boy who took McGrath to see Coldplay, but spent the whole concert "half holding my hand and half texting his ex".
"That's word-for-word what happened," she says. "I wrote it the day after the concert, so it was fresh in my mind."
What did he feel about lyrics like: "I knew you wanted her when you looked in my eyes"?
"He was like, 'That was harsh,'" she laughs, "And I said, 'Hmm, I'm not the harsh one in this situation.'
"But for me, I'm so glad that, in that timeframe, I wrote that song and that I captured that moment."