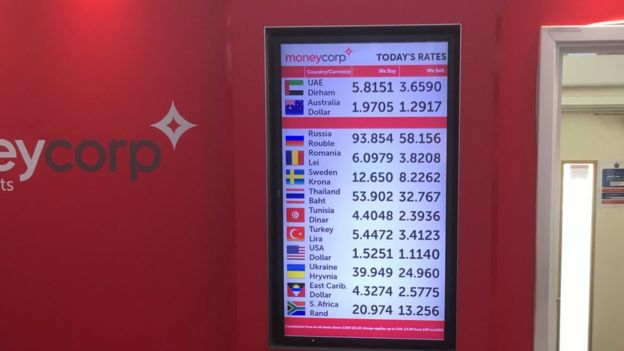 Travellers buying their currencies at UK airports are being offered as little as 86 euro cents to the pound.
Foreign exchange broker FairFx, which carried out a survey for the BBC, said this rate, from Moneycorp at Southampton airport, was the worst at any airport bureau de change.
The average euro rate across 16 big UK airports was higher, at 95 euro cents to the pound.
Ten months ago the average at these outlets stood at 99 euro cents.
James Hickman, chief commercial officer at FairFX, said the fact that airport rates were so low – much worse even than at High Street banks – showed that the bureaux de change firms were taking advantage.
"In reality they are ripping off the customer, who is effectively captive as they have nowhere else to buy their money at an airport," he said.
"At most airports and terminals individual companies have a monopoly.
"They should be regulated as there is simply no justification for charging someone 14% [the average margin between the tourist and money market rates] to change their pounds to euros," he added.
That margin is as high as 26% at Moneycorp's Southampton airport outlet.
Pauline Maguire, Moneycorp's retail director, said: "The reason for our higher airport rates is the significant cost associated with operating there – from ground rent and additional security, to the cost of staffing the bureaux for customers on early and late flights.
"An easy and more cost-effective way for customers to buy travel money is to pre-order online and collect at the airport."
The best euro rate for tourists detected in the airport survey was 1.05 euros, from Travelex at Newcastle airport.
Wide variation
The average tourist rate for the pound against the US dollar is also very low.
Currently the average is $1.12 to the pound at UK airports, ranging from $1.05 at ICE at Norwich airport to $1.15 from Travelex at Heathrow Terminal 3.
Koko Sarkari, chief executive of ICE, which runs bureaux de change at Belfast, Birmingham, Heathrow and Luton airports, dismissed the idea his firm was exploiting a captive market.
"We work hard to keep our prices fair and competitive around the world," he said.
"However, due to differences in distribution, costs of operation, regional competition and other factors such as ongoing volatility in the market, as we are experiencing now, online prices may not be the same as our ICE branch prices and prices may also vary between branches because of these factors."
Alternatives
Several BBC website readers have told us about their recent experiences when changing their money at UK airports.
Helen Stanfield flew to Iceland at the start of August from Gatwick.
"I asked at the Moneycorp desk for the exchange rate from pounds into Icelandic Kroner and was told it was 99 to the pound," she said.
"I walked away and used my card at an ATM in Reykjavik airport to get local currency – at a rate of 135 to the pound!"
Jonathan Lilley was annoyed to find the walk-up rate an one airport was so much lower than the online offer.
"I turned up for my holiday flight and found that Travelex's euro exchange rate was not even 1 euro to the pound, when the same firm's pre-booked rate was about 1.08 euros," he said.
No-one is forced to buy holiday money at the last moment at an airport.
This potentially expensive experience can be avoided by:
buying online, in advance, from the outlet of your choice: a bank, Post Office or bureau de change elsewhere
if you have a good reason to pick up cash at an airport, order it online in advance and use the airport bureau de change as the pick-up point
consider spending abroad with a pre-pay travel money card, or a no-fee credit card marketed for travellers abroad
for sheer convenience you may be tempted to use your bank debit card at foreign ATMs, but beware of steep charges.
One reason for the poor rates on offer to tourists has been the continued decline of the pound on the foreign exchange markets, in the wake of last year's Brexit vote.
Although in the past 12 months it has only fallen from $1.31 to $1.29, against the euro the drop has been much steeper.
In that time the pound has gone from 1.18 euros to 1.08 euros.
Continuing Brexit uncertainty is feeding into sterling weakness, said Simon Derrick, a managing director at BNY Mellon.
Traders are looking to see what will happen over the next two months, with the attempted incorporation of EU law into UK legislation through the Great Repeal Bill, and EU negotiator Michel Barnier reporting back to the European Parliament on Brexit talks.
However, there are two sides to the story.
The euro is also getting stronger because "the eurozone economy is really starting to show some signs of life," Mr Derrick said.