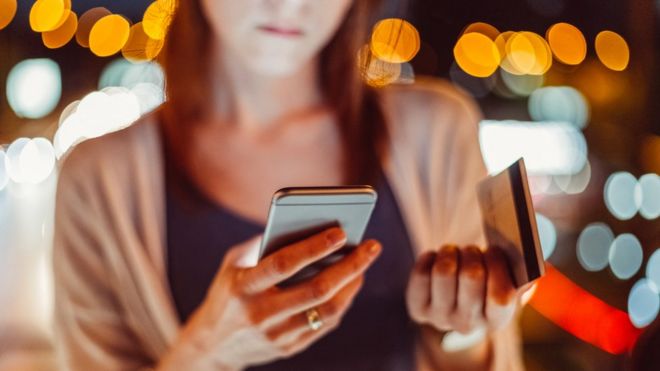 One in five people struggling with debts has seen their credit card limit automatically increased – a higher proportion than for cardholders in general, a charity has claimed.
Citizens Advice said 18% of those struggling financially had seen the limit increased without request, compared with 12% overall.
It wants a ban on increases without a cardholder's explicit consent.
The regulator has estimated that 3.3 million people are in persistent debt.
In a report published earlier this year, the Financial Conduct Authority (FCA) said that "customers in persistent debt are profitable for credit card firms, who do not routinely intervene to help them".
Recent industry figures have also shown a rise in the use of credit, debit and charge cards.
The number of transactions grew by 12% in the year to the end of June, the highest annual rate since 2008.
Meanwhile the value of spending also rose, accelerating to 7.2%.
'Irresponsible lending'
Citizens Advice said that poor affordability checks by lenders were making people's financial situations worse.
"It is clear that irresponsible behaviour by some lenders is making people's debt situation worse – such as offering more credit when they already have thousands of pounds of unpaid debt," said Gillian Guy, chief executive of Citizens Advice.
"The regulator must ensure that lenders are taking into account people's whole financial and personal situation before agreeing further credit.
"Banning firms from raising existing customers' credit limits without seeking their express permission first would also help people take more control over their finances," she added.
Jon Pearson, a former IT engineer, told Wake up to Money on BBC Radio 5 live about his experiences.
He got into debt a few years ago and ended up owing £35,000, spread over three credit cards.
Part of the problem, he said, was that there seemed to be no limit on his borrowing.
"I never applied to any card company to raise my [borrowing] limits – they just did it without me asking for it," he said.
'Breathing space'
A spokesman for the industry body UK Finance said: "Helping customers struggling with persistent credit card debt is a priority for our members.
"The industry has already developed a number of proposals to address the regulator's concerns and ensure that no customer in persistent debt will be offered a credit limit increase.
"Where customers are in financial difficulty, the industry introduced a breathing space to allow customers to engage with a debt advice provider," he added.
Lenders face an upcoming deadline to prove to regulators that they are not lending recklessly.
The Bank of England has consistently expressed the need for vigilance over growth in the consumer credit market during "benign" economic conditions, at a time when household income has been relatively stagnant.
The FCA has also suggested that credit card companies could cancel any interest or charges in extreme cases.
Firms should have to work more closely with people in debt, such as drawing up a faster repayment plan, it proposed.