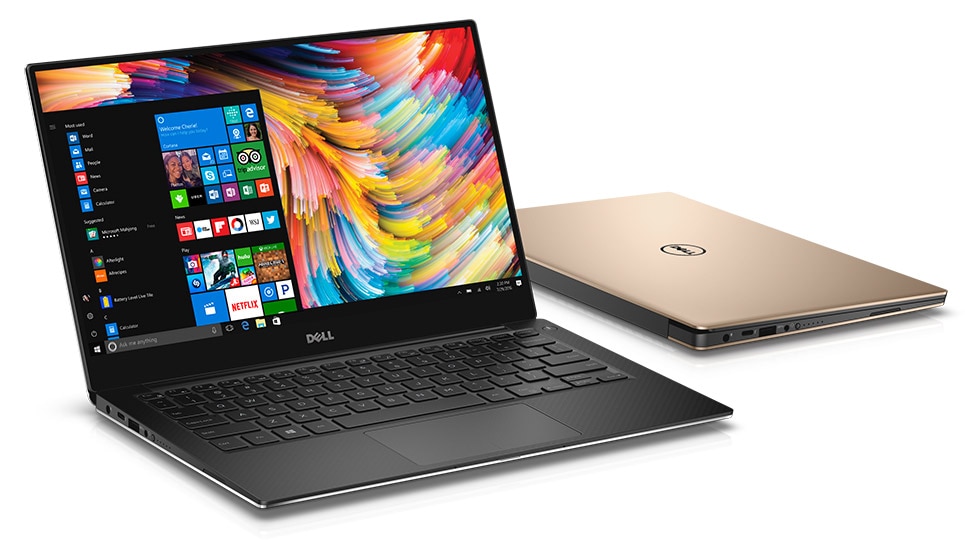 Dell has done it all over again. The latest and greatest Dell XPS 13 recently arrived, and it's the best laptop in the world.
This time coming equipped with the latest, 7th generation () Intel processors behind that same eye-dropping display and punchy keyboard we've come to enjoy typing on – now all within an optional rose gold frame – the new XPS 13 has wowed us all over again.
And, much of that isn't thanks to crazy innovations or fresh additions, but a few key refinements that help the XPS 13 stand out amongst a sea of laptops that are perhaps trying to change a bit too quickly. The XPS 13 is a tortoise surrounded by hares … only it's got a rocket strapped to its back.
Price and availability
Available now through its website and several retailers, Dell begins the bidding for the standard XPS 13 at $799 (£999, AU$1,899) to start. In the US, that gets you a Kaby Lake, dual-core Intel Core i3 processor with Intel HD Graphics 620, 8GB of RAM and 128GB of solid-state storage behind an FHD (1,920 x 1,080 pixels), non-touch InfinityEdge display. (The UK and Australian versions come starting with an Intel Core i5.)
If you want the touchscreen at QHD+ (3,200 x 1,800) resolution – and the two screen features only come as a pair – you'll need to cough up at least $1,299 (£1,249, AU$2,499). That also nets you a dual-core Intel Core i5 chip, but sadly doesn't up the storage or RAM capacity. Of course, you can choose to upgrade both of those components for extra cash.
Latest news
The Dell XPS 13 has been out – Kaby Lake processors, Rose Gold outfit and all – for seven months now and, in the time since its release, it's taken on a life of its own with tons of new firmware updates, and even a hardware upgrade, to thank for it.
With Intel's  processors on the way, the Dell XPS 13 is  come September 12. On that day, for the first time ever, we'll see the option of a Dell XPS 13 donning a souped-up quad-core processor clocking in at up to 4GHz.
In the meantime, for current XPS 13 owners, Dell has issued a notice of an industry-wide vulnerability for Dell PCs taking advantage of certain specialized Intel technologies, including AMT, SBT and ISM.
Design
Frankly, there isn't a ton to be said of the XPS 13's design this time around, as very little, if anything, has changed. You still have the 13.3-inch display as sharp as QHD+ (3,200 x 1,800 pixels) with optional touch controls squeezed inside an 11-inch-wide frame.
And, you still have the gorgeous, machined aluminum lid and base that beset a comfy, carbon fiber keyboard deck coated in soft-touch paint. Only this time, the lid and base come in rose gold – the salmon shade that's all the rage in tech products these days – as well as the traditional silver option.
The machine somehow measures even thinner than the previous generation, though only by a hair: 0.33 inches (9mm) at its thinnest point to 0.6 inches (15mm) at its thickest. For those keeping score, the previous model came in at two hundredths of an inch thicker at the nose.
Dell has also reduced the weight of its leading laptop, but by such a small degree it would be impossible to notice: from 2.93 pounds (1.32kg) to now just 2.9 pounds (1.29kg) even for the touchscreen model. Short of a major breakthrough in the materials used to construct the XPS 13, we're likely looking at the thinnest and lightest Ultrabook from Dell for a while. (Please, prove us wrong.)
All told, we're still smitten by the XPS 13 design, and frankly we're happy it hasn't changed much, because it doesn't have to. One small request: if Dell could at least center that bottom bezel-oriented webcam like it has on the new , that would be clutch.