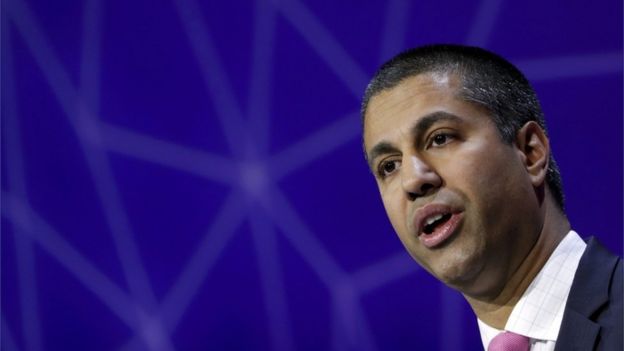 Ajit Pai has cancelled an appearance at the Consumer Electronics Show (CES).
The Federal Communications Commission chairman was to debate his decision to overturn net neutrality rules.
Many protested outside the FCC building ahead of a December vote that ratified his decision, arguing it would makes the internet less open and accessible.
Internet service providers will be able to speed up or slow down different companies' data and charge consumers according to the services they access.
But the U-turn on the rules faces legal challenges, including one led by New York's attorney general, Eric Schneiderman.
There are also accusations the FCC failed to investigate abuse of its public commenting process.
Policy discussion
Mr Pai has attended the Las Vegas trade show for the past five years, but this would have been his first appearance as head of the FCC watchdog.
Consumer Technology Association president Gary Shapiro said: "Unfortunately, Federal Communications Commission chairman Ajit Pai is unable to attend CES 2018.
"We look forward to our next opportunity to host a technology policy discussion with him before a public audience."
The Federal Trade Commission's acting chairwoman Maureen Ohlhausen, who was also scheduled for the debate, will still attend.
Fellow FCC commissioners Brendan Carr, Michael O'Rielly and Mignon Clyburn are also still scheduled to appear on a panel at the conference next week.