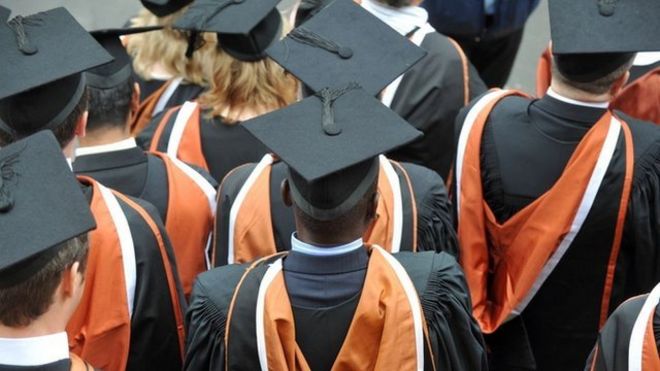 Head teachers say that applicants to university in England must be told "as soon as possible" how much they will pay in tuition fees in autumn 2018.
But the Department for Education says it has still to confirm whether an increase will go ahead.
The first deadline for applications for next year is next month – but ministers have not yet decided whether to raise fees to above £9,500.
University websites tell applicants that fees have yet to be decided.
The tuition fee level will be decided "by autumn 2017, before the majority of students have applied for a University place for 2018-19", said a Department for Education spokesman on Wednesday.
This is likely to fuel speculation that the government is considering whether or not to press ahead with the increase.
Tuition fees are rising to £9,250 this autumn, but there is also an inflation-linked increase planned for next year, which would take fees over £9,500 for courses beginning in autumn 2018.
The deadline for applying to some courses – including for Oxford and Cambridge – is mid-October.
Rising debts
But there have been calls for the government to reverse such fee increases – and students, returning to school this week, are being asked to apply without knowing how much they could face in fees.
Mr Barton said that with students now considering university places, the government should "confirm the tuition fee cap as soon as possible".
"We are also concerned that universities have been allowed to raise their fees, but that the government has frozen the £21,000 threshold above which graduates are required to start making loan repayments," said the leader of the ASCL head teachers' union.
"If inflation is recognised for universities, it should surely be recognised for students too."
With higher fees pushing up student debt above £100bn this year, there has been much scrutiny of the cost of university.
During the general election, Labour proposed scrapping tuition fees altogether, a policy that was seen as attracting many younger voters.
And Universities Minister Jo Johnson and former Labour education minister Lord Adonis have challenged the "excessive" level of some vice-chancellors' pay.
There have been reports of debates within the Conservative Party about value for money and whether university fees should be allowed to keep rising.
The higher education umbrella group Universities UK has called for a rethink on replacing maintenance grants with loans.
A Department for Education spokesman said: "Changes to fee caps for the 2018-19 academic year will be confirmed by autumn 2017, before the majority of students have applied for a University place for 2018-19."