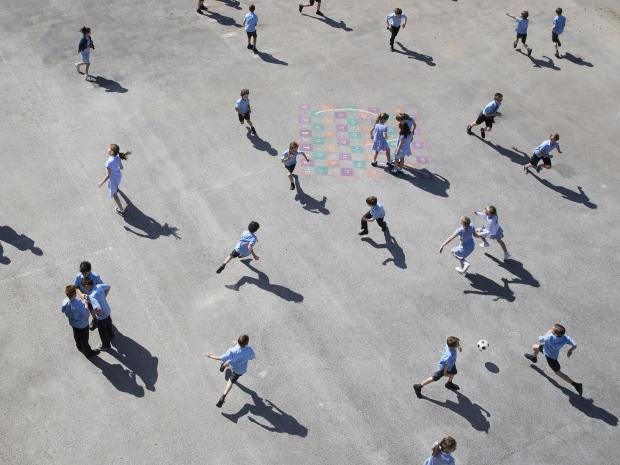 Schools in some local authorities are already operating at over 100 per cent capacity – a problem set to grow with the coming spike in the secondary-age pupil population.
Parents vying to secure a secondary school for their children in the next five years face the worrying possibility of not getting a place, as councils warn of an impending crisis over a lack of pupil capacity across Britain.
Almost half (49 per cent) of councils are at risk of being unable to meet rising demand for places within the next five years. This means up to 125,000 children are predicted to miss out in September 2022, according to the Local Government Association (LGA).
The LGA's analysis claims 12 local authorities would face a shortfall in secondary school places from 2018/2019 without changes.
That figure rises to 23 in 2019/20, 41 in 2020/21, 57 in 2021/22 and 66 in 2022/23, it argues.
The forecast comes as new figures this week show tens of thousands of appeals were lodged by parents in 2017, after their children were denied a place at their favoured school.
As millions of pupils prepare to return to school this week, the LGA said new powers are urgently needed to empower local authorities to force academies and free schools into expanding – currently, neither are obliged to comply with local authority requests.
The number of children attending primary school has increased in recent years, fuelled by a rising birth rate in the early 2000s.
The increase in primary age children has placed a strain on the system, but an actual lack of places has been avoided until now because most primary schools still fall in under local authority jurisdiction.
However, academies and free schools currently answer directly to the Department of Education, bypassing local state education control.
 Kevin Courtney, joint general secretary of the National Education Union (a merger between the country's largest teaching unions) said the government needs to take urgent action to give power back to local authorities.
"Local authorities must have their powers to open new schools restored. It beggars belief that while councils have a legal duty to ensure there are sufficient school places locally, Conservative reforms mean they no longer have the power to open new local authority-maintained schools.
"In addition, councils must have the authority to direct academies and free schools to expand where they have capacity – a power they do have in respect of maintained schools."
But New Schools Network, the body working with the government to open new free schools, said the answer lay with them: "The way to meet the need for new places is not to stick Portacabins in playgrounds, but to open more free schools.
"They are more popular with parents than any other type of school, and more likely to be rated 'Outstanding' by Ofsted and more likely to get good results."
Academies were first set up under Tony Blair's Labour government and the scheme was extended by the coalition government after the 2010 general election.
Since 2010, all newly built schools must be opened as academies or free schools, with all existing schools allowed to apply for academy status.
They are state-funded, but free from local council control with power over areas such as curriculum and teachers' pay. Local authority also has no power to expand its own school places.
Currently around two thirds of secondary schools are now academies, and the Government has since pledged to open 500 by September 2020.
Unions have remained critical of the government's free school programme, arguing too many schools are being opened in regions where no places are needed, while other local authorities struggle at full capacity.
Manchester is said to be worst affected, with schools across the city already oversubscribed and operating at 103 per cent capacity. The coming spike in secondary age children in the area means that in Manchester alone, an additional 12,886 places will need to be found.
A further 6,657 places will be needed in Leicester, with schools currently operating at 104 per cent capacity, rising to 135 per cent by 2022.
Councillor Richard Watts, chairman of the LGA's Children and Young People Board, said councils had "worked hard" to create almost 600,000 additional primary places since 2010.
"This is no small feat," he added. "However, as those children move on to secondary schools, the majority of which are now academies, securing new secondary places in the areas where they are needed is becoming increasingly difficult.
"Councils are working with one hand behind their backs to help as many pupils as possible receive a place at their first choice school.
"If we are to avoid this looming secondary school places crisis, councils need to be able to force existing academy schools to expand if voluntary agreement is impossible, and must be given back powers to open new maintained schools themselves."
Responding to the LGA figures, Mr Courtney labelled the new schools programme an "irrational and inefficient mechanism for delivering school places" that came at "vast expense to taxpayers".
Mr Courtney added: "Many academies and free schools have, in addition, stubbornly refused to expand– relinquishing their responsibility to local families.
"The school places crisis will not be resolved unless action is taken to correct these damaging policy failures.
"The market place is failing education and the Secretary of State has a responsibility to step in and take the necessary steps to ensure that all families have access to the secondary school places they desperately need within their local community."
A Department for Education spokesperson said: "These figures are thoroughly misleading. Local authorities have a statutory duty to ensure that there is a school place available for every child.
"We have allocated £5.8bn of basic need funding between 2015 and 2020 to enable them to do this, and over 735,000 additional pupil places were created between 2010 and 2016.
"This money is given to councils based on their own estimates of the number of places they will need."