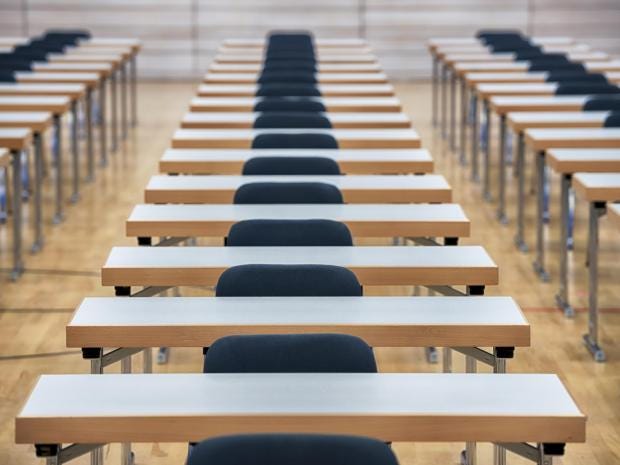 Top UK grammar school accused of putting school league tables before pupil education and welfare.
One of the UK's top grammar schools faces legal action after expelling A-level students who failed to achieve top grades.
Around 16 Year 12 pupils at St Olave's grammar school in Orpington, south east London, were told they could not return for their final year of school because they had not reached the three B grades required at AS level.
Simpson Millar solicitors have initiated judicial review proceedings against the governing body of the school in regards to two students affected, and a hearing has been set for 20 September.
The pupils, who cannot be named for legal reasons, failed to achieve Bs in any of their subjects taken in the first year of sixth form, lawyers said.
Just days before the start of the upcoming term, they were told they could return to the school but only to study a BTEC in health and social care.
The high-achieving school, which will start its new term on September 5, is said to operate a three-pronged policy to "maintain its exceptional A-Level results".
Year 12 pupils will normally have gained three Bs or higher if they wish to complete their studies in Year 13, the school's sixth form rules and regulations state.
An email sent to the school's Year 12 tutors in June said that pupils who scored a C would not be able to pursue that subject through to A-level.
If a student scored a C, they must sign an agreement that the school reserves the right not to enter them for A-level examinations in any subject in which it is considered they will not score a B or above.
The claimants are contesting the policy on the grounds that it does not "safeguard and promote the welfare of the children at the school, and is irrational".
It is unlawful, they say, because "the school does not have the power to exclude pupils between Year 12 and Year 13 due to an alleged lack of academic progression".
Parents and teachers have also criticised the school for behaving like "an exam factory", sacrificing pupils welfare and education in favour of school league tables.
Dan Rosenberg, the lawyer acting for the families, told the Guardian: "Proceedings have now been issued. As well as assisting our clients, these proceedings will hopefully assist others who may be affected now and/or in the future by the school's policies and practices.
"We hope that the governing body will now reconsider the policy and its application, and further that the children affected can return to their A-level studies at the start of term with their peers."
Despite losing their places for A-level exams, the students affected were said to be highly academic, having passed the required 11-plus exam to get into the school years ago.
"My son is devastated," one father said. "It's like putting your old garbage out. He doesn't know what to do. We are in limbo. School starts soon and we don't even know where he's going."
Students at St Olave's this year achieveing 96 per cent A*-B grades, with 75 per cent of all grades reaching at least an A.
Education lawyer Imogen Jolley, of Simpson Millar, said Department for Education exclusion guidance covered local authority maintained schools, such as St Olaves.
She said: "In maintained school sixth forms there may be grade boundaries to get in, but once you are in the only way they can get rid of you is if there is a behaviour issue. It would be unlawful to exclude a pupil for a reason such as academic attainment or ability."
The Department for Education said it would not comment while legal proceedings were ongoing, but issued guidance on its exclusion policies.